Thanks to Dana over at The Coupon Challenge for bringing us recipes based on Farm Fresh's ad each week!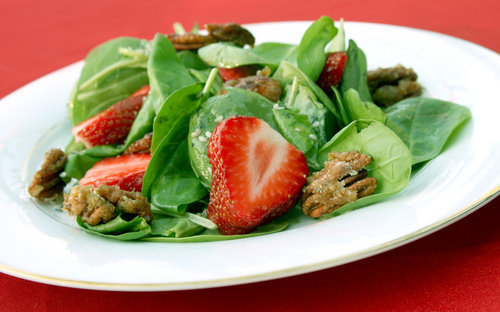 Do you want to try the best EVER salad? You will literally want to lick the bowl after you try this recipe. It is not a frugal recipe, but I love serving it when I can get all the ingredients on sale. This salad pairs nicely with fresh fish.
Prices are based on the .
Strawberry Spinach Salad
Dressing:
1 lemon
2 tablespoons white wine vinegar
1/3 cup granulated sugar
1 tablespoon vegetable oil
1 teaspoon poppy seeds
Salad:
1/4 cup sliced natural almonds, toasted
8 ounces (1 1/2 cups) strawberries, hulled and quartered
1/2 medium cucumber, sliced and cut in half
1/4 small red onion, sliced into thin wedges (1/4 cup)
1 (6 ounce) package baby spinach
Directions:
1. For dressing, zest lemon using Lemon Zester/Scorer to measure 1/2 teaspoon zest. Juice lemon using Juicer to measure 2 tablespoons juice. Combine zest, juice, vinegar, sugar, oil and poppy seeds in Small Batter Bowl. Whisk until well blended using Mini-Whipper. Cover; refrigerate until ready to use.
2. Heat oven to 350° F. For salad, spread almonds in single layer over bottom of Small Bar Pan. Bake 10 – 12 minutes or until lightly toasted. Remove from oven; cool almonds in bar pan.
3. Meanwhile, hull strawberries using Cook's Corer; cut strawberries into quarters.
4. Score cucumber lengthwise using Lemon Zester/Scorer; remove seeds using The Corer. Using Ultimate Slice & Grate fitted with v-shaped blade, slice cucumber; cut slices in half/ Slice onion into thin wedges.
5. Place spinach in large serving bowl; add strawberries, cucumber and onion. Whisk dressing; pour over salad, gently tossing to coat using 3-Way Tongs. Sprinkle with almonds. Serve immediately.
yield: 10 Servings
*I don't think I've ever added the poppy seeds
 
Strawberries $2.49
Baking Classics Sliced Almonds $1 ($0.50)
Cucumber $0.79
Small Red Onion $1.49 (0.75)
Baby Spinach $2
Assume have other ingredients on hand
Total cost: $7.32
This is a recipe from the
Photo Credit: